On Wednesday 5th of June, Jonathan Roberts reported on a study at the 21st edition of the EuroVis conference in Porto, Portugal. The study, presented as the paper "Multiple Views: different meanings and collocated words", examined the terminology and phraseology of using 'multiple views', 'many presentations' and 'alternative visual depictions' in the area of visualisation. This research offers insights into how people use these words, and  makes recommendations for their use.  It is hoped that the resulting framework of ideas and words will prove useful as a resource for building close writing tools for authoring multiple view texts, and a reference for novice and expert authors in visualisation. 
The beautiful city of P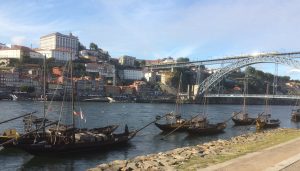 orto hosted the 21st edition of EuroVis (which was organised by the GPCG, the Portuguese chapter of Eurographics, in association with INESC-ID Lisboa and INESC-TEC). The EuroVis conference runs annually and is organised by the Eurographics Working Group on Data Visualization and is supported by the IEEE Visualization and Graphics Technical Committee (IEEE VGTC).