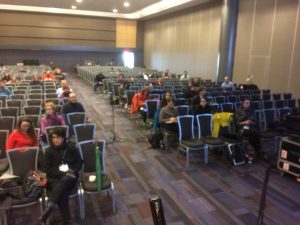 The ColloCaid team presented a paper titled "Co-creating an online learning environment to support academic writing: Lessons learnt in an interdisciplinary setting" at the 2019 Visualisation for Digital Humanities (Vis4DH) workshop that was co-located with the IEEE VIS (visualisation) conference, and held at the Vancouver Convention Centre East. The workshop took place on Sunday 20th October 2019 in Vancouver, Canada, and was attended by over 100 participants.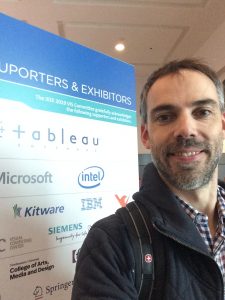 The conference attracts attendees from around the world. It encourages submissions from all fields of the humanities, social sciences and all branches of visualization.
In particular the 2019 workshop focused on presentations that discussed projects that bring different disciplines together. The ColloCaid team presented work on collaborating across lexicography, linguistics, human computer interaction and visualisation. In this paper "we discuss the user-centred design process in the development of an online learning environment for learners of English for Academic Purposes (EAP)… [and] present our experiences and lessons learnt when collaborating on ColloCaid at the intersection of visualisation and the digital humanities".